Get the latest activity, event and special announcements about the California Wing Cadet Program

The Yahoo cawgcadets Group is used to distribute information only and not as a discussion group. All cadets and senior members are invited to join. ======================================================================
(click on the link to go to that activity)

25-27 Oct - Basic Cadet School - Fresno
27 Oct - Wings, Wheels, and Rotors Expo - Los Alamitos JFTB
1-3 Nov - Advanced Cadet Staff Seminar - Running Springs
1-2 Nov - Hemet-Ryan Airshow - Hemet
1-3 Nov - Basic Cadet School (BCS) - Travis AFB
9-10 Nov - ROCstock XXXVIII - Lucerne Dry Lake Bed (Victorville)
22-24 Nov - Cadet Noncommissioned Officers' School (NCOS) North - Fairfield
26 Dec 2013 - 03 Jan 2014 - Cadet Officer's Basic Course (COBC) - Camp Parks (Dublin)
======================================================================
California Airshow Page - NOT a CAP site
2013 Encampment Photos may be viewed at CAWGEncampment.com
---
Effective 01 October 2013, the CAWGF150
(CAWG Application for CAP Activity) was phased out. The only activity form approved by CAWG and National Headquarters is now the CAPF31.
31 Oct 13
NEW
CAPF31
PUBLISHED BY NATIONAL HEADQUARTERS
Some activities may require submission of additional forms:
CAPF160 - CAP Member Health History Form
CAPF161 - Emergency Information
CAPF162 - CAP Member Physical Exam Form
CAPF163 - Permission for Provision of Minor Cadet Over-The-Counter Medication

Goodbye CAWG Form 150, it's been a great ten years!
======================================================================
Advanced Cadet Staff Seminar (ACSS) - Running Springs
ACSS is the capstone activity in the Integrated Leadership Program where experienced Seniors and Cadets get together to discuss and improve the Cadet Program in California Wing. This ACSS will focus on updating and improving the Basic Cadet School (BCS) and Airman Training School (ATS) Program Manuals and Curriculums. ACSS will also include classes and discussions in advanced topics in leadership, management and communications designed for executive level cadets.

Pre-requisites for Cadet Participants:
(requirements may be waived at ACSS Project Officer's discretion)
• Have served on staff at a BCS or ATS
• Phase III required. Phase IV recommended
• COBC/RCLS Graduate

Application Details:
Deadline: Cover Letter and Resume emailed by 27 September 2013
Cost: $50 (Includes billeting, meals and Polo Shirt)

Cadet Participants: Email the following items to acss@cawgcadets.org by 27 September 2013:
• Cover letter outlining the reasons you'd like to attend ACSS, including potential areas of revision you would recommend for the BCS or ATS Program Manuals or Curriculums
• Resume with school, community and CAP achievements
Selected Cadet Participants will then be required to submit the following by 18 October 2013:
• CAPF31 completed and signed
• Check or money order for $50 made out to Civil Air Patrol
Senior Participants: Senior Members/Cadet Program Officers who have experience or interest in BCS or ATS and who would like to attend ACSS, contact Lt Col John Boyle, at jboylela@me.com
CONTACT AND MAILING INFORMATION
http://www.cawgcadets.org/activities/acss/acss.php
Address correspondence to: CAWG HQ/CP P.O. Box 7688, Van Nuys, CA 91409-7688
=============================Go to top============================

Hemet-Ryan Airshow - Hemet
Hemet Ryan Composite Squadron 59 would like to invite you to participate in the Hemet Ryan Airshow.
Come be a part of History!
Arrive: Friday night 01 Nov @ 1800 hrs - $10 cost for dinner and breakfast included or
Arrive: Saturday morning 02 Nov by 0700 hrs - (no cost) lunch is provided
Depart: Saturday evening 02 Nov by 1800 hrs
To Apply:
Cadets: Email CAPF31 and CAPF161 to cwgiants@gmail.com
Application deadline for overnight stay is 22 Oct
Senior Staff:
Positions are available for Senior Member Staff. Send CAPF17 to cwgiants@gmail.com
Cadet Staff:
Please send a resume with your CAPF31 and CAPF161 to: cwgiants@gmail.com
DEADLINE FOR STAFF APPLICATIONS IS 22 Oct
Any questions about the airshow, staff applications, or other questions; please send an all e-mails to:cwgiants@gmail.com
Hemet-Ryan Airport
4710 W Stetson Ave
Hemet, CA 92545
http://www.squadron59.org/hemet-airshow
http://www.hemet-ryanairshow.org/
=============================Go to top============================


Basic Cadet School - Travis AFB
Basic Cadet School serves as indoctrination into the cadet program. Students learn followership fundamentals customs and courtesies, uniform wear, Physical Training, Civil Air Patrol History and other elementary skills over a single weekend.

Curriculum includes
• Beginning Drill and Ceremonies
• Proper Wear of the CAP Uniform
• The Missions & History of CAP
• The Cadet Honor Code
• The Organization of CAP
• The Activities Portion of the CAP Cadet Program
• The Cadet Physical Fitness Training Program
• Basic Customs and Courtesies
• Introduction to Attitude and Discipline

Report time: 1800 hours, Friday, 1 Nov 2013
Graduation: 1700 hours, Sunday, 3 Nov 2013
Location: Travis Air Force Base, CA
Cost: $40 - Includes meals, billeting

Students: Email CAPF31 and CAPF161 to Capt Rhonda Anderson at sq22activities@gmail.com.
Follow-up with SIGNED CAPF31 and CAPF161 & $40 cash or check (payable to "Civil Air Patrol") to mailing address below. Call 707-290-3456 with questions.

Cadet Staff: All staff positions are open. Email CAPF31, Cover Letter, & Resume to BCS Commander, Maj Chris Ross. Follow up with SIGNED CAPF31, CAPF161 and $40 cash or check (made out to "Civil Air Patrol") to mailing address below.

Senior Staff: Email CAPF31 and CAPF161 to Maj Christopher Ross at with a brief statement of desired position to cross@cawg.cap.gov. Follow up with SIGNED CAPF31, CAPF161 and $40 cash or check (made out to "Civil Air Patrol") to mailing address below.
Mailing Address for all applications:

CAWG BCS Travis
C/O Capt. Rhonda Anderson
2208 Champagne Ct
Fairfield, CA 94533


=============================Go to top============================
ROCstock XXXVIII - Lucerne Dry Lake Bed (Victorville)
Rockets of Every Size Welcome • M-Powered & Hybrid Flights • Dozens of Rods and Rails! • Night Flying Friday & Saturday • Fly for the whole weekend! • Free Spectating • Free Camping (Fires Above Ground) • Awesome Raffles • Toilet Facilities Provided • Bring your own food and water.

From "A" engines to "M" clusters, from missiles to flying basketballs, it's RocStock! A free and fun weekend where you can shoot your own model rockets or watch the "big guys and gals" shoot rockets that go supersonic and can exceed 10,000 feet in altitude! Night launches and rocket drag races, too!
Everyone is invited -- it's a great family event. CAP membership is not required and it's FREE for spectators. Don't miss it!

Contact Lt Col Ken Hartwell at klhartwell@earthlink.net for more information about CAP participation at this activity..
Links:
Other useful information
Gumby's Space Adventure (leaves this site and links to YouTube)
=============================Go to top============================


Cadet Noncommissioned Officers' School - Fairfield
NCOS stresses the fundamental aspects of instructional techniques, evaluation methods and
intermediate leadership laboratory skills.
PARTICIPANTS WILL GET "HANDS ON" EXPERIENCE IN:
| | |
| --- | --- |
| Instructional Methods | Drill and Ceremonies |
| NCO Responsibilities | Color Guard & Guidon Protocols |
| Evaluation Techniques | Providing Feedback |
Cost: $40 for Students and Cadet Staff Includes meals and billeting. Senior Staff Members will
receive specific application instructions from the Commandant and/or XO.

Students: Students must have a minimum grade of C/A1C and completed Encampment or Basic Cadet
School. Prerequisites may be waived by the Commandant on a case-by- case basis. Student slots are
limited and will be filled on a first-come, first-served basis. Apply now - there will be no
application deadline extensions!
Mail CAPF 31 (no longer using CAWGF 150), CAPF 160, CAPF 161 and CAPF 162 (if in a physical
category other than CAT I - Unrestricted) along with a copy of the prerequisite activity
certificate (Encampment/BCS), complete with all required signatures and check or money order for
$40, payable to: CAWG/CAP. Applications must be postmarked NLT 1 NOV 2013 to:
NCOS North
Lt Col Elizabeth Blackey
3553 Jefferson Avenue
Redwood City, CA 94062

Cadet/Senior Staff: Refer to the CAWG NCOS staff email for available staff positions and instructions. Cadet Staff applicants (excluding Cadet Commander) must e-mail a cover letter and resume to the Commandant NLT 25 October 2013 for consideration.
=============================Go to top============================


Cadet Officer's Basic Course (COBC) - Camp Parks (Dublin)
This activity satisfies the Region Cadet Leadership School requirement for the Eaker award.
Part of the California Wing Integrated Leadership Program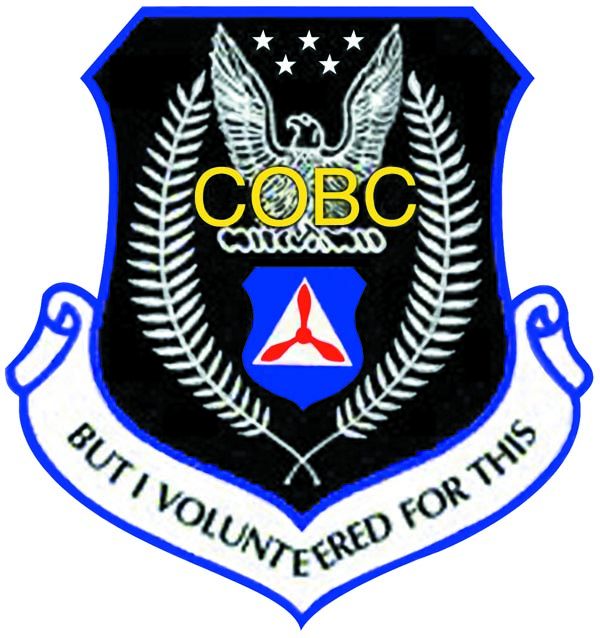 Are You Ready To . . .
- Defend your ideas and viewpoint?
- Learn from subject matter experts?
- Be challenged to grow by your fellow officers?
- Step into the marketplace of ideas?

Prerequisites For Students:
(Select requirements may be waived at Commander's discretion)
● Mitchell Award recipient
● 15+ years of age
● Minimum scholastic "C" average (2.0 on 4.0 scale)
● NCOS Graduate (CAWG Cadets only)

Student Application:
Mail the following together:
- CAPF 31 completed and signed
- Cover letter outlining the reasons you'd like to attend COBC
- Resume with school, community and CAP achievements
- Check or money order for $160 made out to "Civil Air Patrol"

Deadline: Postmarked by 23 November 2013
For those requesting funded transportation, applications due: 01 Nov

Questions: Contact Lt Col George Ishikata, george.ishikata@gmail.com

CONTACT AND MAILING INFORMATION
Send Applications to:
Lt Col Elizabeth J. Blackey
COBC/RCLS
3553 Jefferson Ave
Redwood City CA 94062
=============================Go to top============================
If you're applying to attend any CAP activities, please be sure you're using CAPF31 Checks for CAWG activities should be made payable to "Civil Air Patrol."

Unless otherwise noted, all applications are to be mailed to:
California Wing Cadet Programs
<Name of Activity>
PO BOX 7688
Van Nuys CA 91409-7688